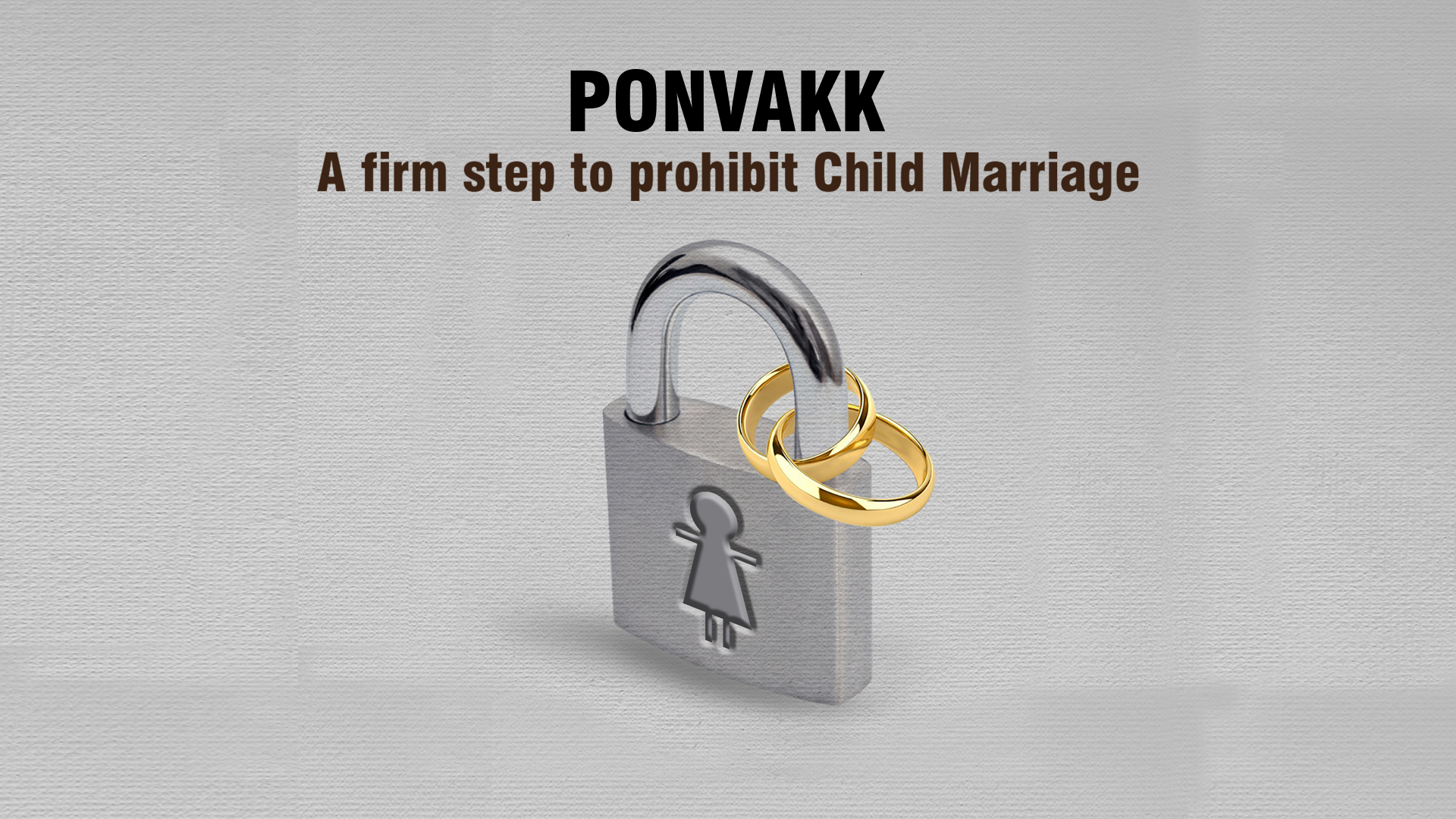 Child marriage is an injustice against children under the age of 18. Even though it is a crime, child marriage still prevails in many parts of our country. This age-old and regressive tradition robs children of their childhood, especially girls who are married off to older men and expected to handle household responsibilities. Instead of completing their education and attaining financial independence, girls are subjected to marital duties at a very young age. 
There are a total of 258 officers appointed to prohibit Child Marriage in the state of Kerala. But due to a lack of timely information, these officers are unable to stop such actions. Hence, the Department of the Women and Child Development is working tirelessly to reduce and eventually eliminate this orthodox custom of Child Marriage. The department has come to the conclusion that an end to this tradition will be possible only with the support of common people. Therefore, the WCD department has come up with a new initiative called 'Ponnvakku'. This is an incentive-based initiative that will reward whistle-blowers for calling out any marriage involving children. 
Through 'Ponvakku', whistle-blowers will be awarded a total of Rs. 2,500/- in exchange for useful and timely information about any child marriage. People who come forward with information about such marriages will be guaranteed anonymity. Informants can be rest assured that their identity or personal details will not be disclosed to the public or used for any other informational purposes. 
How to inform the WCD department?
The information can either be given to the Child Marriage Prohibition officers working on the Block-Level or to the officers working in the Women and Child Development department at the district level. The information can be conveyed through calls or informants can send an email on

ponvakkuwcd@gmail.com

The information must contain the name and address of the children getting married, their parents or guardians, or any other information that can be used to identify the people involved in this crime. 

Incentives will only be awarded for information received before the marriage ceremony takes place. Individuals will not be eligible to receive incentives once the marriage has taken place. 

If more than one person provides timely information about a particular child marriage, incentives will be awarded to the individual who contacts the office first. 

The incentive to the informant will be sent

through money order or via bank transfer.

If individuals provide anonymous information that could stop a child marriage from occurring, an investigation will take place. Anonymous informants will not be hunted down to award the incentives in case the information is right. 
Phone numbers of various WCD department officials
Thiruvananthapuram – 9446448106

Kollam – 9188969202  

Pathanamthitta– 9895700126

Alappuzha – 9447760885

Kottayam – 7356801553  

Idukki – 9846789239

Ernakulam – 9447890661

Thrissur – 9446453235  

Palakkad – 9188969209

Malappuram – 9447947304

Kozhikode – 8281541754  

Kannur – 9446673447   

Wayanad – 9495736892

Kasaragod – 9847922898